Dr Sumit Ramteke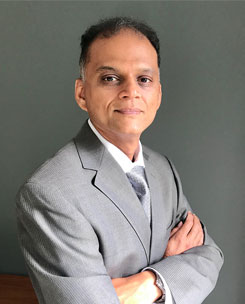 Dr Sumit Ramteke
Dr. Sumit Ramteke is a Consultant Radiologist based in the UK with a special interest in Musculoskeletal Imaging and Intervention.
An alumnus of the prestigious St. Johns Medical College and Hospital, Bangalore, India, he completed his surgical training at Worcester and Warwickshire Basic Surgical Rotation and procured his MRCS from the Royal College of Surgeons, Edinburgh.
Dr. Ramteke then went on to train as a Radiologist within the Mersey region and was awarded his FRCR from the Royal College of Radiologists, London. During his final year as a trainee he completed a 6 month fellowship in MSK imaging and was appointed as Consultant Radiologist at Southport and Omskirk NHS trust in 2007.
During his tenure of 6 years as a Consultant, he has set up Musculoskeletal Ultrasound services for Orthopaedic surgeons, Rheumatologists, Physiotherapists and Accident and Emergency departments within the trust. He has worked towards enhancing the MRI Arthrogram services and Musculoskeletal MRI services of small joints of the wrist, hand and foot.
He has also set up a MSK Ultrasound and Intervention service in the community.
Dr. Ramteke has been pivotal in initiating various interventional techniques, such as Ultrasound Guided Injections, Dry Needling, Nerve Blocks and Alcohol Ablation. General Radiology reporting of acute CT, MRI and Ultrasound including plain film reporting is performed within the scope of the weekly job plan.
He has been attending various courses to complete his Diploma in Musculoskeletal Radiology from the European Society of Skeletal Radiologists. Dr. Ramteke is also a member of the British and European society of Skeletal Radiologists.
In his unending quest for excellence and learning, Dr. Ramteke is now studying for a Masters in Sports and Exercise Medicine, at the University of Bath, UK