Flexor Tendon Rupture
The flexor tendons are smooth, flexible, thick tissue strands which bend the fingers.
Deep cuts on the under surface of the wrist, hand, or fingers can cut and injure the tendon and make it unable to bend one or more joints in a finger. When a tendon is cut, it acts like a rubber band, where the cut ends are pulled away from each other.
Flexor tendon tears may be partial or complete. If tendons are completely cut through, the finger joints cannot bend on their own at all.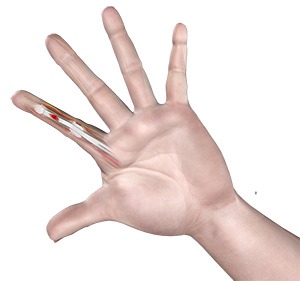 Symptoms:
Recent cut to hand or fingers
Pain
Swelling
Loss of ability to bend the finger
Numbness (loss of sensation)
Investigations:
Physical examination
X-ray
Non-surgical Treatments:
Dry Needling
Steroid and Hyaluronic Acid Image Guided Injections